Regular price
$170.00 USD
Regular price
Sale price
$170.00 USD
Unit price
per
Sale
Sold out
Pleasure can become truly electrifying with a toy like Sizzling Simon by Mystim! This unique toy combines the rumbling of vibration with the intense tingling of e-stim; both sensations offer different patterns and intensities to explore. 8 vibration programs with 5 intensity levels 5 e-stim programs with 10 intensity levels Training program for the pelvic floor improves orgasmic ability Medical grade silicone for a pleasant feeling and high skin friendliness Especially quiet in spite of two powerful motors Waterproof and also suitable for lusty hours in the shower and bathtub
Shipping & Returns

Shipping:

Orders may take 3-5 business days to be processed and ready for shipping or local pickup. You will recieve a completion email when your order has shipped, or is ready for local pickup.

All items are shipped fully covered in discreet envelopes or boxes. The return label will read from AYLI.

Returns:

Due to the intimate nature of our products, we do not accept returns for customer satisfaction reasons. Most of our products with a mechanical component have a manufacturer warranty. If you receive a defective product, or if it breaks within the warranty, please reach out to the manufacturer to fulfill your warranty.

For more information, please read our Shipping and Local Pickup Policy, as well as our Return and Refund Policy.
Share
View full details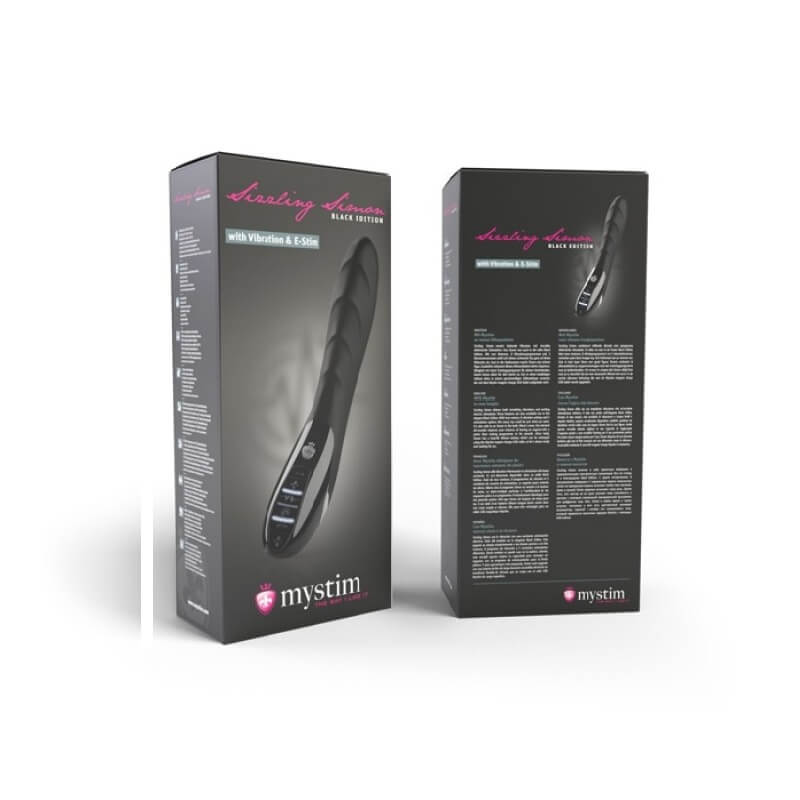 Description
Pleasure can become truly electrifying with a toy like Sizzling Simon by Mystim!
This unique toy combines the rumbling of vibration with the intense tingling of e-stim; both sensations offer different patterns and intensities to explore.
8 vibration programs with 5 intensity levels
5 e-stim programs with 10 intensity levels
Training program for the pelvic floor improves orgasmic ability
Medical grade silicone for a pleasant feeling and high skin friendliness
Especially quiet in spite of two powerful motors
Waterproof and also suitable for lusty hours in the shower and bathtub
Satisfying your desire twice as much
Sizzling Simon is here and ready to stimulate you and pamper you with vibration and stimulation at the same time. Because double is just better. Without any electrical device or cable, the all-rounder vibrates, tickles and pulsates with pleasure inside you. The smooth 27 cm long and up to 4.3 cm wide silicone body of this e-stim vibrator makes you tremble wonderfully - you get as hot as lava.
Vibration
Sizzling Simon has two sources of vibration: one in the tip and one in the shaft. With 8 different programs and 5 different strengths, the two play together quite skilfully. United they do their best to find the most varied way to drive you to ecstasy.
E-Stim
You might be wondering what in the world is e-stim? E-stim is short for electrical stimulation. Our bodies have many sensitive nerve endings and pathways that transmit information, such as a touch, to our brain; our body itself is constantly sending out electrical impulses.
A blow on the skin, a gentle caress and more is transformed by our body from a "touch of nerve endings" to an electrical impulse, which is send to the brain as stimulation. A touch is therefore always an "indirect" electrical impulse in the body.
E-stim devices and toys literally speak our body language fluently: without the need for a translation, the electrical impulse goes straight to the brain, and leads to such a phenomenal excitement that we release a lot of endorphins. Each of the five stimulation current programs of this e-stim vibrator is designed to give you a new tingling emotional experience. Sizzling Simon's conductive surfaces run along the sides and have 10 different levels of intensity to make the stimulation as even as possible.
Pelvic floor training
You know how we are: 8 vibration programs and 5 different stimulation current variants were not enough for us. So our Sizzling Simon also has a training program on board. It strengthens the muscles of your pelvic floor, which has been shown to improve the ability to orgasm. The various functions can be controlled very easily using the navigation keys in the handle. You can choose whether you want to use stimulation current and vibration combined, or just one of them.
Cleaning
Sizzling Simon is made of 100% medical grade platinum silicone. This makes it not just really hygienic, but also easy to clean with some damp tissue and mild suds. Its long-lasting lithium-ion battery can be charged using the included Mystim magnet charge USB cable. Even with current and vibration running simultaneously at the highest setting, a fully charged Sizzling Simon will operate for at least 3 hours before it loses potency. So, get ready for an endlessly beautiful pleasure.
Specs
Length 27 cm
Diameter 3,2 – 4,0 cm
Made of 100 % medical grade platinum silicone
1 Year warranty
Intensity 0-90 mA
Frequency range 5-70 Hz
Pulse width 90-140 µs
Mystim magnet charger and USB-charger included
Instructions in GER, ENG, FRA, ITA, ESP, NL und RUS
No electrical device needed