Regular price
Sale price
$20.00 USD
Unit price
per
Sale
Sold out
The UnFuck Your Anxiety book set will use science to rewire your anxious brain! Anxiety is a survival skill gone haywire. It happens when our brain is working so hard to protect us that it forgets to notice that the danger has passed. Get the insightful book, or the interactive workbook — or commit to banishing your anxiety for good and invest in both!
Shipping & Returns

Shipping:

Orders may take 3-5 business days to be processed and ready for shipping or local pickup. You will recieve a completion email when your order has shipped, or is ready for local pickup.

All items are shipped fully covered in discreet envelopes or boxes. The return label will read from AYLI.

Returns:

Due to the intimate nature of our products, we do not accept returns for customer satisfaction reasons. Most of our products with a mechanical component have a manufacturer warranty. If you receive a defective product, or if it breaks within the warranty, please reach out to the manufacturer to fulfill your warranty.

For more information, please read our Shipping and Local Pickup Policy, as well as our Return and Refund Policy.
Share
View full details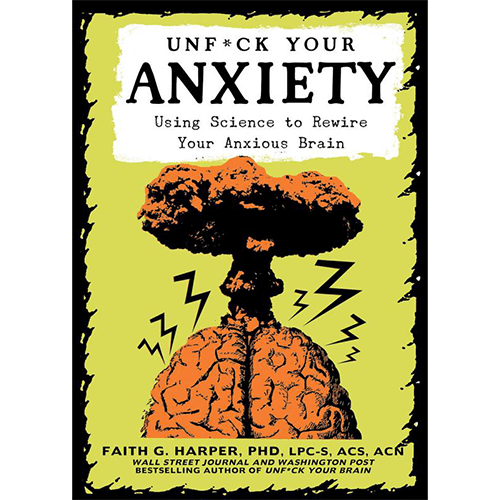 Description
The UnF*ck Your Anxiety book is a lifesaver for stress, panic attacks, and chronic anxiety, and the latest from the UnF*ck Yourself Series by Dr. Faith G. Harper.
Dr. Faith G. Harper packs a ton of knowledge and help into this practical manual. She helps us understand the history and science of anxiety, realize when it's become a serious problem, know the difference between anxiety and other conditions, and cope with it in the moment as well as addressing it long term.
This book is a lifesaver for panic attacks, breaking out of flight-fight-freeze responses, similar and co-occurring conditions, and for chronic anxiety. Straightforward, funny, kind, and judgment free, it includes a wide range of tips, exercises, and medical interventions. It's also good for people who aren't burdened by daily anxiety but want to cope better with the tough life situations we all face. Read this book and breathe!
The UnF*ck Your Anxiety Workbook is the companion to UnFuck Your Anxiety by Dr. Faith G. Harper.
The latest by Dr. Faith, this interactive workbook will help you figure out the history of your anxiety by identifying how and when it makes itself known. You'll also learn basic tools for surviving moments of panic as well as longer-term problem solving.  Learn how to tame your anxiety using tried-and-true methods built on neuroscience with this intelligent and insightful workbook!
Anxiety can control your life with a tight grip. Get yourself free with these exercises and worksheets designed to help you identify, manage, and ultimately calm your anxiety, be it stress that ebbs and flows or constant, chronic panic. Work through this book either by itself or as a companion to Dr. Faith G. Harper's bestselling Unfuck Your Anxiety.
Faith G. Harper, PhD, is a bad-ass, funny lady with a PhD. She's a licensed professional counselor, board supervisor, and certified sexologist. Additionally, Dr. Harper is an applied clinical nutritionist with a private practice and consulting business in San Antonio, TX. She has been an adjunct professor and a TEDx presenter, and proudly identifies as a woman of color and uppity intersectional feminist. Dr. Harper is the author of the book UnFuck Your Brain and many other popular zines and books on subjects such as anxiety, depression, and grief. She is available as a public speaker and for corporate and clinical trainings.
Like this book? Check out more works by Dr. Faith!